Gravestones and Headstone Memorials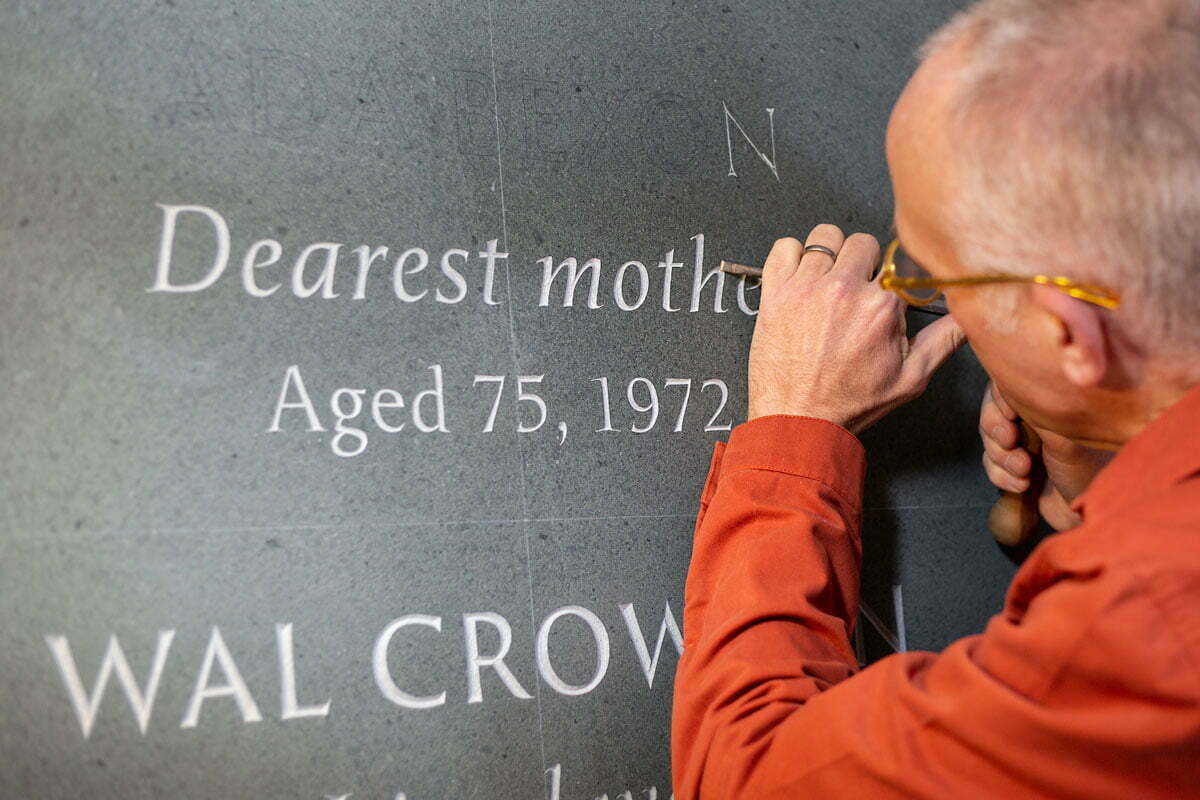 Tell your loved one's story with a hand carved headstone that's as special as they'll always be to you.
A hand carved memorial headstone is a truly beautiful way to encapsulate just how special your loved one is to you. I design and hand cut stone lettering for headstones, memorial plaques, gravestones, children's headstones, church tablets, and cremation stones.
A memorial headstone with hand carved lettering allows you to create a fitting tribute, capturing precious memories in a way that is as unique as they were.
Designing headstone memorials
From the initial design process, right through to the cutting of the headstone, your wishes, thoughts and opinions are placed at the forefront of everything I do to ensure that you're truly content with the finished piece and it's as special as can be.
Nearly anything is possible when it comes to your memorial headstone design- the only limits are those imposed by cemetery regulations on materials, letterforms, and stone. I will be with you every step of the way – from gaining permission for the memorial right through to installation.
I will always help you to create a memorial headstone that is sympathetic to its surroundings, regardless of whether the piece has a more contemporary feel or is traditional in its design.
Traditional hand carved headstones for graves
I create high quality headstones using traditional methods and ancient skills- my tools are a mallet and chisel. I love and encourage the use of British stones wherever possible, championing the beauty of the stones we have available right here on our doorstep in the UK.
Unique memorial plaques
No two headstone designs are the same – I really love creating memorials that are unique and bespoke to the person they are remembering. Each client receives a design that is entirely drawn from new- it is one of my favourite parts of the creation process.
Installing a headstone
All headstones and memorial stones are created and installed inline with NAMM regulations and procedures.
When you commission a headstone with me, the cost of installation, and any possible cemetery fees will be included within the costing- this is my standard practice and removes any unnecessary stress for you.
Installation will also incur a fee dependent on distance from my workshop in Loughborough, and the size and heaviness of the piece because it may require additional equipment for installation.
"Having ordered an 'off the shelf' headstone for my father, not realising there was a choice outside of this. I realised that I wanted something different when my son passed. I decided to try and go it alone. I felt overwhelmed by all the rules and regulations for the grave yard and council so put it all aside. A friend who knows Damian recommended him highly. From the very start we hit it off, he put all my ideas onto paper and created the most beautiful stone for my son. We as a family are all so pleased with the final result."
"Damian's creativity is so special and he is an absolute pleasure to work with. He has an uncanny ability to put your thoughts onto paper and then onto stone - it's simply magical!"
"I asked so many companies to create me something different as a memorial for my mum and was only offered plain, or religious options. Meeting Damian was a breath of fresh air. The process was easy and he kept me involved at every stage. I would be mad not to recommend him and his wonderful work."
"We found a gem in Damian, he made this very sad process easy and in a way freeing. We now have a beautiful memorial forever."
"I saw Damian's work at Melbourne Festival a few years ago and each year I would visit his stand and admire his work. I am now the proud owner of a stunning plaque. Thank you so much."
"Our home came with a wooden name plaque, we commissioned Damian to create a new slate plaque and we are so proud to have this as a welcome to our visitors. Thank you Damian!"
"My experience of finding a headstone for my husband was so easy and so well managed by Damian. His compassionate nature and the fact that all the dealings with the Parish were taken out of my hands and dealt with made such a difference. I am so pleased that my husband's headstone has embodied the simplicity and beauty."
"The undertaker I used for my loved one offered me a book to choose a headstone. However, I wanted some input, I did not want to have shiny black polished stone with gold writing. I wanted something bespoke and elegant that was more fitting. I could not have found a more perfect partner in Damian in working on the design. The finished memorial is beautiful and I would not hesitate to recommend Damian."
"I wanted an unusual gift for my friend's nuptials. Damian's wonderful design entwined their initials and carved them into the smoothest stone sculpture. They were ecstatic to receive it and It takes pride of place in their home!"
"We asked Damian to help us revamp a corner of our garden. He created a beautiful bench and bird bath making it a haven for both us and the birds!"